About Us

---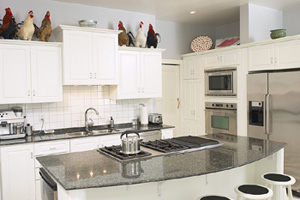 Please stop by our beautiful Showroom.
This is a great place to get ideas and get inspired about all of the possibilities!

Whatever your preferences or price range, King's has it all for you. We believe that your home should be distinctly and decidedly your own.
This means we will work within your budget to help create the environment and work space that is the very best for you. No two people are alike, so why should your kitchen be like anyone else's?
Here at Kings we respect your uniqueness as a person, and will work with you one on one to create what is best for you. No hassles, no high pressure sales. Relax, unwind, dream and be inspired. Enjoy a cup of tea and browse through our catalogs.

Here is a shopping secret we will share with you:

Many times you can find top shelf and imported products for the same price as you might pay for a regular item from one of those warehouse type stores. Really! I love shopping, learning the ins and outs of what really makes a quality product, and sharing that information with you.
The best advertisement we could ever have is someone who loves their kitchen.

We put our heart into helping you create the heart of your home.

Best Wishes,

The King's Appliances Family

Please stop by or call for an appointment!




Phone: 520-803-1631
Email: info@kingsappliances.net